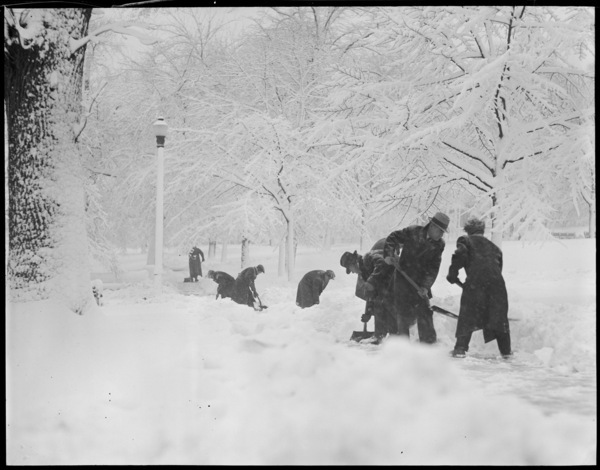 I always make sure I have some cash on hand to pay the neighborhood kids to shovel snow after a storm, and Nemo was no exception.
Am I wealthy enough to afford to pay people for all my household chores?
Nope.
Am I so damn lazy that I have to others do it?
Hardly.
One of the many ways that I paid my way through school was shoveling snow. As soon as the snow would stop, I'd be out there with my shovel, knocking on doors and pitching the satisfaction of a clean walkway or driveway for only a few dollars.
But that wasn't all that I did to pay my way through school.
I was also the Easter Bunny, a McDonald's crew member, Santa Claus (until the local Mom's complained that I was too short, then I was demoted to Elf), house framer, landscaping laborer, Kentucky Friend Chicken team member, bartender, waiter and probably a hundred other things.
Most importantly, I've been an entrepreneur who printed and sold novelty t-shirts, organized ski trips and pitched advertising. (At age eight, I started my own Detective Agency. That was short lived.)
Today, I'm still pitching people in my role as an entrepreneur (though there isn't as much physical labor involved) and I know the value of finding someone who wants what I have to offer.
I want to say "Yes" to young people because I know how often people say "No." 
I don't see enough hustle in my day-to-day experiences with young people and when I do, I want to reward it. I want to encourage these young entrepeneurs.
Sure, I ask for a lot when these kids come knocking on my door (I have a long driveway, walkway, etc.) but I also pay well and usually give them food and water while they're busting their asses to clear my property.
If they do a good job, more often than not, I'll ask them to come back after the next storm – though few of them do. Apparently I haven't done enough to instill the value of a repeat customer in these kids.
That'll be my next contribution.
Do you reward hustle when you see it?