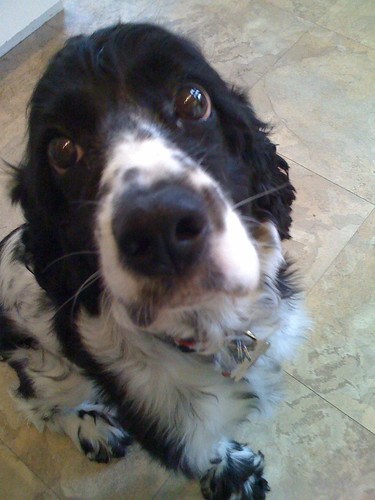 Last week, I went to visit some of the dogs at Abandoned Angels Cocker Spaniel Rescue in Flushing, NY. If you love Cocker Spaniels as much as they do and are looking for a canine friend, please give them a call. You can see what dogs they have available on Petfinder.org.
While I was there, I was lucky to find Lucy and even luckier that she decided she wanted to come home with me. 😉
She was dropped-off today by a volunteer around 11 AM after having had been spayed on Tuesday. Between the surgery and the change of environments, she was scared. After a few hours, she calmed down and started to explore her new home.
Lucy's Story
The Rescue indicated that on January 3rd, Lucy was surrendered by her owner when he learned that his bank would foreclose on his home. She was never housebroken, but did live with and lovingly tolerate a 3-year-old boy.
The owner indicated that Lucy never had pups, but it appears to my wife and me that she's nursed. We'll never know without a full exam by a vet.
That said, we don't really care – just as long as she's healthy. (Which she is.)
Challenges Ahead
Lucy is a dog that needs to learn how to be a dog again. After a year and a half of relieving herself in the house, she's not too sure what she's supposed to do. Couple that with her submissive urination and it's going to take some time to get her housebroken.
A Sweet Girl
After only a few hours, Lucy has started to trust us. She's started playing fetch, she gives kisses, and after dinner tonight she unexpectedly jumped into my lap – she's very loving and patient with all of us. Once we overcome her housebreaking challenges, she's going to be a blessing to this family. We're glad to give this beautiful little girl a loving home.