Gone, but never forgotten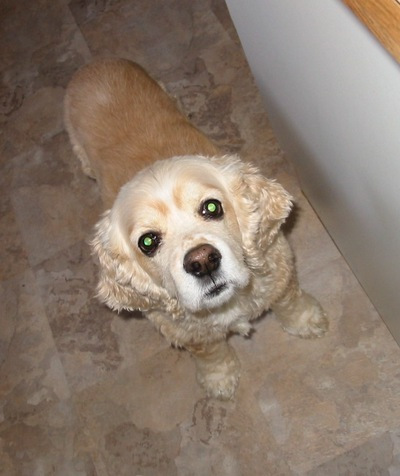 April 4, 1994 – October 12, 2008 
UPDATE: This thoughtful email was written by wife earlier today:
Dear family and friends,
It is with very heavy hearts that we share the news of Oliver's passing as a wise, old sage at 101.
Oliver came into our lives in the form of an 11 pound, fluffy, spirited engagement gift and sealed John and I as a family long before we spoke our wedding vows.
Oliver was unique, truly one of a kind and here are just a very few of the special reasons why.  Oliver didn't lick ice cream off the cone, he bit it off.  He loved Pete's Wicked Ale, cantaloupe, would choose rice pudding over filet mignon and was always able to identify who in the room would give him the best shot at what he desired (you know who you are).  We would throw one hundred tennis balls, he'd chase everyone as if it were the first or his last, often going air born but he never, ever brought them back.  Needless to say our yard perpetually looked like Wimbledon or as if the Easter Bunny had just departed.  He barked at the background sounds in TV shows and movies…you've really no idea how hard those sound folks work to make the scene look and sound realistic!  He sighed loudly if we stayed up too late and he was ready for bed.   His short little tail never stopped wagging and if he were overly excited he could actually wag himself right off his feet. He relished walks on the beach even though he was always a bit timid of the surf and adored his hikes in the park and reservation…soooo many good smells. He was stoic and brave. Ollie was a lover, never short of kisses and he 'spoonsied' like the best. He loved his belly kissed and his ears rubbed and we're certain he considered himself a person, not a dog.
After 8 years as an "only child" he graciously welcomed Jack and took on the duty of protector and big brother as Jack's puppy.  He accepted the new and awkward walk routine with a stroller and was with me/us every step of the way with our new child.  He took to sneaking into Jack's room (we would hear the creak of the door on the baby monitor) and he chose to sleep on the floor next to the crib rather than in his own down filled bed.  Even during the toddler years, with middle-age upon him, he showed the patience of a saint…never a snap, a snarl or disdainful look but rather always grace and love shone through for his family, even the newest, tail-tugging member.
As Oliver's freckles faded over the years he never lost the spirit of a puppy and when we shared his age with people in the park or on walks they were always shocked to hear that he was 14 years and not 14months. 
What I will miss most about him are his big, brown soulful eyes, soft ears and belly, snuggles, his sweet smell (even his "low tide" breath) and how he helped me to slow down and take in the moment.  Ollie and I have shared miles and miles of walks over the years both in Hoboken and Maplewood where we've resided but also in the other places we've traveled.  As our miles, became blocks – and this past Spring our blocks became simply a walk around our own block – I discovered many a Georgia O'Keefe sky, the sounds of our neighborhood and the beauty and nature surrounding me.  Oliver gave me the priceless gift of his love and showed me how to slow down long enough to actually feel myself breathe and to take the time to relish the joys and blessings that life has presented to me and our family.  Thank you Ollie Bubba.
Our hearts ache terribly, we will miss him daily but feel truly blessed and honored that he chose to share his very special self with us.  For those of you that touched Ollie's life and were equally touched by his we thank you for your love and support during this sad time.
Love, D, John and Jack